---
Huawei Mate Xs 2 has a 7.8-inch or 6.5-inch screen unfolded / folded and costs €2000
Huawei Watch GT 3 Pro, Huawei Watch Fit 2 and Huawei Band 7 are also coming to France
Huawei Health 2.0: the health app offers a paid version with Health +
---
A lot happened in Milan, where Huawei invited the audience to its keynote. After the recent leaks and the China launch of Huawei Watch GT 3 Pro, Huawei Watch Fit 2 and Huawei Band 7, we were expecting these wearables in the European market. Also, the Chinese pulled the Mate Xs 2, Huawei's latest foldable smartphone, from their hat.
The Huawei Health App has also been improved and new functions added. We give you a summary of the main announcements from the manufacturer.
Huawei Mate Xs 2
Huawei Mate Xs 2 was already presented a few days ago for the Chinese market. Today, the foldable smartphone arrives in European lands at a price of 1999 euros. Unfolded, it will have a 7.8-inch diagonal screen with a resolution of 2480 x 2200 pixels. When folded, the panel measures 6.5 inches and is 2480 x 1176 pixels.
With this Amoled display, images are repeated at 120 Hz and a touch sampling rate is 240 Hz. The Mate Xs 2 is equipped with a new hinge called the Falcon-Wing and weighs 255 grams, which is a nice light weight for a foldable device. Under the hood is the Snapdragon 888 and as you might expect, you have to forego 5G and Google services. There is 8 GB of RAM and 512 GB of internal memory, the latter of which can be expanded up to 256 GB via an NM card.
The image unit consists of three lenses:
50 MP (f/1.8) True-Chroma primary lens
13MP (f/2.2) wide angle lens
8 MP (f/2.2) telephoto lens
Huawei Watch GT 3 Pro
We already talked about the Huawei Watch GT 3 Pro when the watch was launched in China, so you're probably all too familiar. The smartwatch comes in two sizes: a 46mm titanium variant and a 43mm white ceramic variant. Each of them is available with different straps.
The finely finished watch has a 1.42-inch or 1.32-inch AMOLED display, which is protected by a sapphire crystal and displays a resolution of 466 x 466 pixels. The battery is said to last up to 14 days for the titanium version and seven days for the ceramic version.
Functionally, there are not many new features. The watch is again controlled by the crown at the top right. New on board is the ECG analysis and atherosclerosis risk screening. However, this functionality is still blocked in the certification procedure and will not be available at launch in France.
Golf and freestyle swimming have also been added to hundreds of sports modes. Golf courses, which are abundantly available in the Chinese version as maps, are not yet available in the local version.
Enhanced health is also included, but more on that later. The watches can already be ordered, starting at 369.99 euros. Here is an overview of all models:
Huawei Watch GT 3 Pro Titanium Edition 46mm Active for 369.99 euros
Huawei Watch GT 3 Pro Titanium Edition 46mm Classic for 369.99 euros
Huawei Watch GT 3 Pro Titanium Edition 46mm Elite €499.99
Huawei Watch GT 3 Pro Ceramic Edition 43mm Silver for €499.99
Huawei Watch GT 3 Pro Ceramic Edition 43mm Gold for €599.99
Watch Fit 2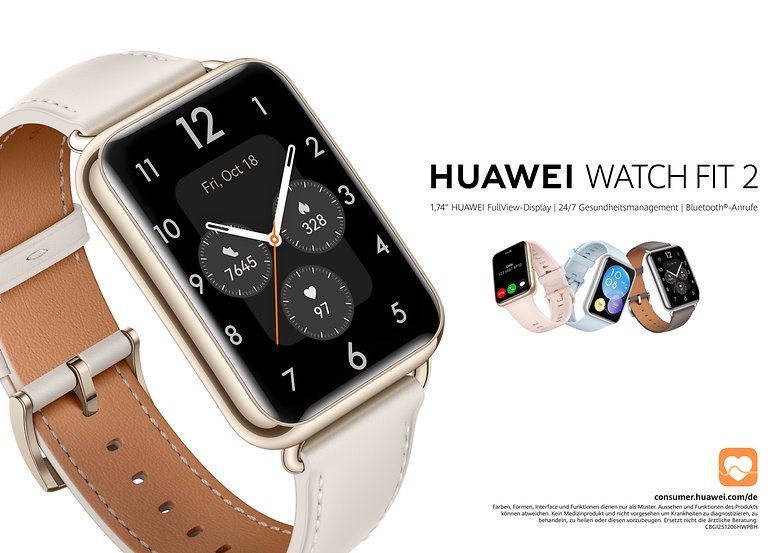 We also talked about Huawei Watch Fit 2. The fitness-focused smartwatch comes with a 1.74-inch Amoled display. It offers a resolution of 336 x 480 pixels and a screen-to-body ratio of 72.2%. Athletes will be delighted with the onboard RAI – running ability indicator that Huawei fans among you are already familiar with.
It starts with 97 sports modes, seven of which come with a lively fitness trainer that makes your life easier with easy-to-understand instructions and demos. You will receive Watch Fit 2 once in the Active Edition in Sakura Pink, Isle Blue and Midnight Black colours. The Huawei Watch Fit 2 Classic Edition is available in Nebula Gray and Lunar White. There is also a stylish version in Silver Frost and Premium Gold colors.
Depending on the release, the different models will be available from June 1 for retail and for pre-order in the Huawei online store. The Active Edition is available for €149.99, the Classic Edition for €179.99 and the Elegant Edition for €229.99.
Huawei Band 7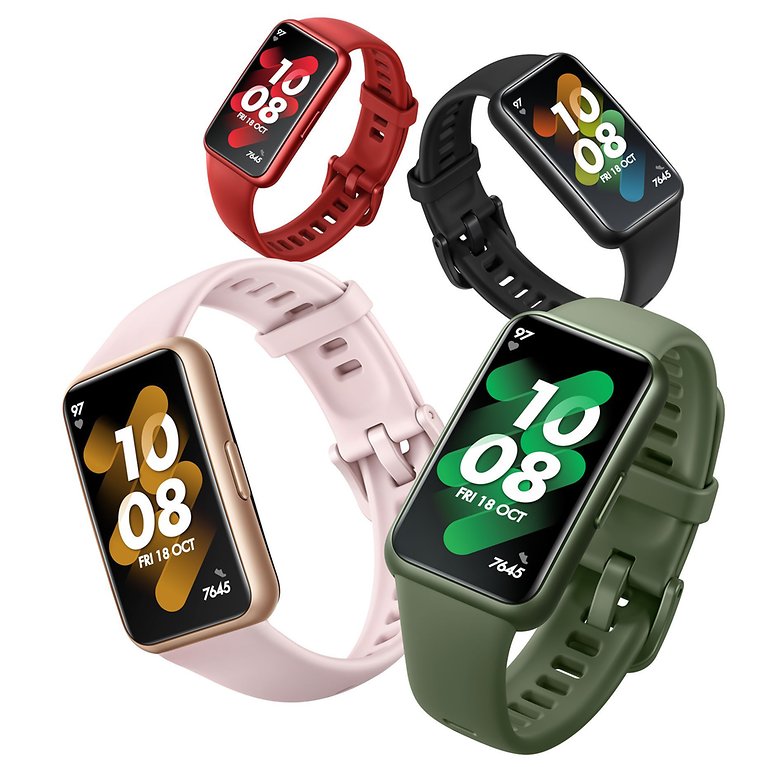 Finally, let's move on to the latest wearables in Huawei's catalog: Huawei Band 7! We already know that, since it was launched in China at the beginning of May. Compared to Huawei Band 6, there have been no certain changes, both in terms of functionality and design. The fitness tracker is once again based on a 1.47-inch Amoled display with a resolution of 194 x 368 pixels.
The connected bracelet weighs only 16 grams and also includes a Huawei TruSeen sensor to measure your heart rate. Everything you know from the previous one can also be found here, so your menstrual cycles are also logged, you can monitor your sleep and much more. The sleep tracker is improved and recognizes different types of sleep disorders.
96 sports modes available on the device including swimming (4 ATM) and cycling. According to Huawei, the battery should last 14 days or ten days when the screen is always used. Huawei Band 7 is priced at €59.99 and you can buy the fitness tracker starting June 16 in the following four colors: Wilderness Green, Flame Red, Graphite Black and Nebula Pink!
+ Health and health from Huawei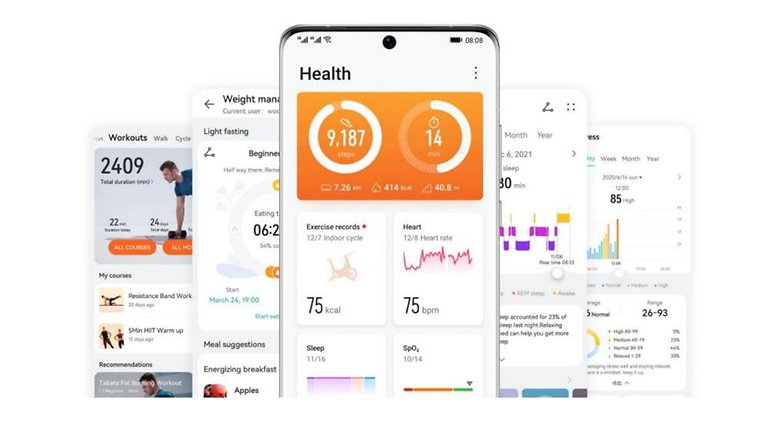 Finally, let's talk briefly about the Health app. Huawei Health has been revamped and is now ready to enhance your health and fitness experience even more than before. We have already mentioned more than 100 sports modes. But you also benefit from training and analysis when you exercise. In addition, Health is now focusing more on diet with its "Stay Fit" plan, which contains personalized exercise plans and nutritional analysis.
As Huawei envisioned, the app paired with your Huawei device is like a personal trainer to put in your pocket. There are calorie management programs and different fasting periods. The app's feature list is longer, but it also has an edge.
Some services, such as the breathing tool, are not available in the free version of the app. Huawei has already launched Health+, a premium version that expands the health service. For Health + a subscription is required, for which you have to pay 7.99 € per month or 59.99 € per year.
What do you think of these Huawei releases? Are there any products you are interested in?