In this comprehensive white paper, Attraqt discusses the challenges of product discovery for retail and e-commerce players, and the growing importance of this issue to ensuring good performance. The study notably compares strategies put in place by e-commerce leaders, and those of more modest players. This study by London Research is based on a survey of more than 350 retail businesses.
Read the full study on product discovery
Product discovery: presenting the right product to the consumer
Retailers can offer a wide range of products on a large number of touch points: website, app, marketplaces… But offering this product poses many challenges to e-commerce players: How do we present the right product? How not to confuse consumers with products they don't want? It is also essential to successfully recreate an experience close to that of walking into a physical store. A consumer who does not know what he wants should be able to mistakenly discover a product that he wanted but was not looking for.
This product discovery problem is essential, especially due to the impatience of buyers: a third of them give up browsing the site after 10 minutes, and two thirds of buyers never return to a site that offers a poor search experience! If the products are wrongly labeled, or presented in a way that does not match the way the customer is looking for them, they will not be purchased.
Product Discovery combines site search, personalization, and marketing to guide shoppers to find the product they're looking for as quickly as possible.
The importance of providing the right products to customers
According to Atraq's study, e-merchants know that the problem of product selection is a reality. 80% believe that many buyers don't know what they want until they see it. For 65% of the professionals questioned, this is particularly due to the plethora of products on offer. Half of the respondents believe that buyers find it difficult to find the product they are looking for.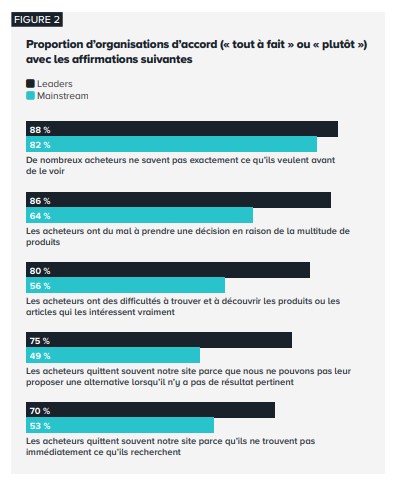 While this finding is shared by the majority of respondents, Attraqt indicates a difference in maturity depending on the type of respondent. Leading e-commerce companies are becoming more and more aware of this product selection problem.
Read the full study on product discovery
Advantages of Product Discovery and Barriers to Implementation
When Attraqt asks e-commerce professionals about the benefits of product discovery, the answers clearly show that many aspects of the customer relationship can be improved.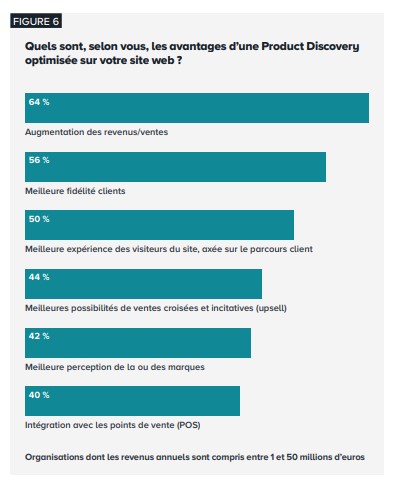 The first advantage of the strategy is to increase sales for 64% of participants. This is followed by better customer loyalty and a better experience for the visitor on the site. Improved product discovery also allows for better omnichannel experience, as well as better brand perception. So the advantages are multiple, and they are there in the long run.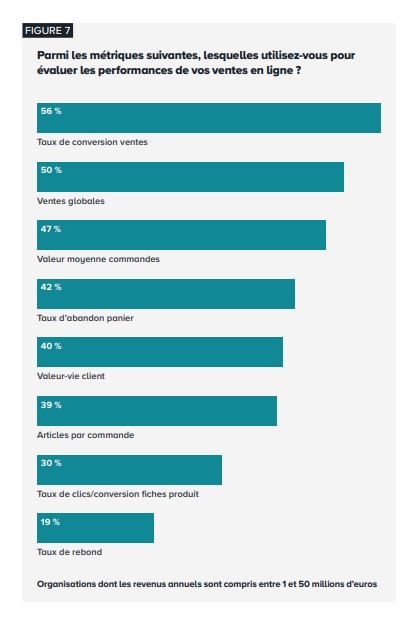 When e-commerce professionals are asked about the KPIs chosen to measure their actions, we see the importance of product discovery. The main metric used to evaluate performance is conversion rate (56%). Other KPIs are total sales (50%), average order value (47%), and cart abandonment rate (42%).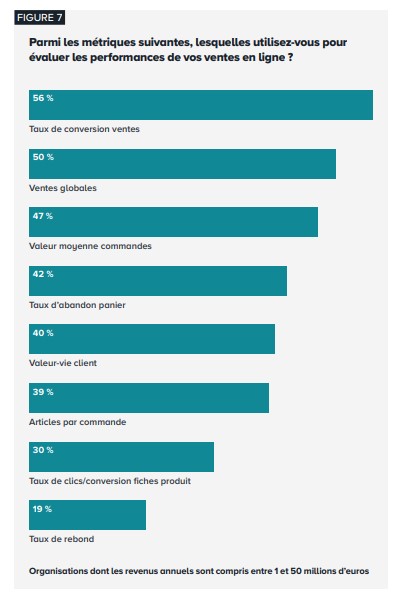 Despite the advantages of product discovery, there are still hurdles to incorporating it into your e-commerce strategy. Difficulties can be operational, technical or organizational. If we go into detail, the volume of products (30%) and the number of customer personalities (29%) are the main difficulties. This is followed by a lack of measurements and poor quality data and metadata. To get the most out of Product Discovery, retailers need to address these fundamental issues.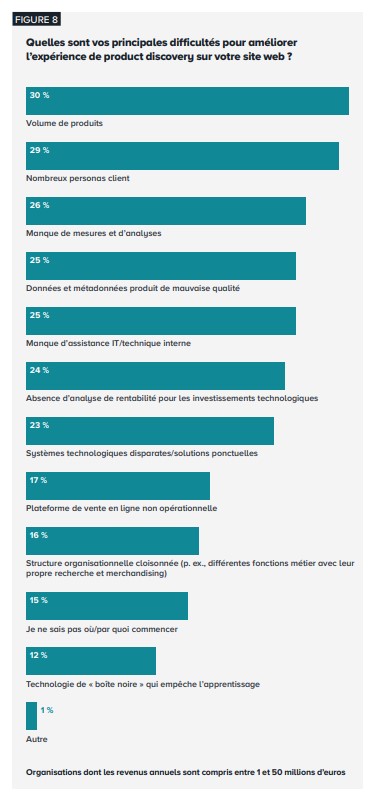 The rest of this study focuses on the importance of the correct selection of technological solutions to obtain a global view of the topic. Once again, leading companies stand out with an integrated approach to product discovery, which includes on-site search, merchandising, and personalization. Conversely, mainstream electronic retail makers have a more isolated approach to product discovery, with different solutions not being integrated.
Other points covered are a comprehensive analysis of what good product discovery technology should bring, in particular the growing importance of artificial intelligence for e-commerce leaders.
Read the full study on product discovery